The motorcycle accident attorneys at the Law Offices of Steers & Associates believe that every motorist is entitled to their share of the road to enjoy safely. Although riding a motorcycle comes with the heightened risk of a motorcycle accident, it should not preclude our clients from participating in a riding pleasure they love.
The motorcycle accident lawyers in our law firm are committed to upholding the rights of motorcyclists who have been injured by the negligence of another. Our goal is to provide you with the best Los Angeles motorcycle accident representation available, while delivering a favorable financial settlement for your injuries, so you can heal completely and begin enjoying the ride again.
We help motorcycle accident victims like you get the compensation you deserve after a motorcycle crash, so you can heal your serious injuries and get your life back on track faster.
How Much Is Your Settlement Worth?
Schedule a completely free, no obligation consultation with our team
We provide free consultations to riders of all ages and walks of life who have had their lives disrupted by a motorcycle crash. We provide a dedicated and personal approach to each motorcycle crash case we represent, to ensure the financial outcome is reflective of the injuries sustained.
If you suffered a debilitating condition, such as traumatic brain injuries or other catastrophic injuries, we will ensure you receive the maximum compensation. Our diligent approach to delivering justice for your injuries is second to none, and an area of personal pride.
Our motorcycle accident lawyers are committed to helping you stand up against an insurance company, who likely will try to pay out the least amount of compensation in your motorcycle accident claim. After a motor vehicle accident of any kind, it can feel impossible to work with insurance companies and handle all the aspects of your case throughout your pain and suffering.
That's why we dedicate ourselves to Los Angeles accident victims and handle all the difficult aspects of your case on our own.
If you have been injured in a motorcycle accident call now to get a free consultation with Los Angeles Personal Injury Lawyer Allen Vaysberg at 1-800-824-5416. The sooner you call, the sooner you can get the compensation you deserve. Email me here.

As my client you will receive personalized attention to your unique situation.
I specialize in auto accidents and have recovered millions in compensation for my clients.

Motorcycle Accidents in California
We are constantly reminded of the extensive injuries motorcyclists are subject to when being struck by a vehicle. With a clear disparity between the size of any passenger vehicle and a motorcycle being evident upon sight, the motorcyclist is nine times more likely to be injured than the vehicle's motorist, and 37 times more likely to be killed as a result of motorcycle accidents. A motorcycle accident can happen at a moment's notice, so it's important to understand how it can happen.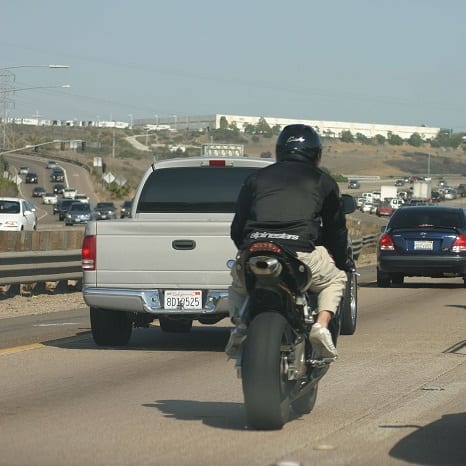 Lane Splitting Accidents
Lane Splitting Accidents
With protection varying from helmets to clothing and specially designed riding gear, the injuries sustained from a motorcycle accident can be devastating to the rider and his or her family. Most commonly, injuries result from the negligence of a vehicle's motorist in the following capacities:
Disregard for the motorcycle's position on the road, especially when they are lane splitting
Driving too close to a motorcyclist
Invading the space of a motorcyclist
Turning in front of a motorcyclist
The negligence of the passenger vehicle's driver can cause serious personal injury during accidents with motorcycles, including:
Broken Bones
Head Injuries, including Traumatic Brain Injury
Muscle Damage
Nerve Damage
Scarring
Skin Removal or "Road Rash"
Spine Injury
Passenger Injuries
At the Law Offices of Steers & Associates in Los Angeles, CA, we understand that the result of many motorcycle accidents deliver a combination of the aforementioned injuries, which means lengthy medical care, lost wages and emotional distress become all too real factors in your recovery process.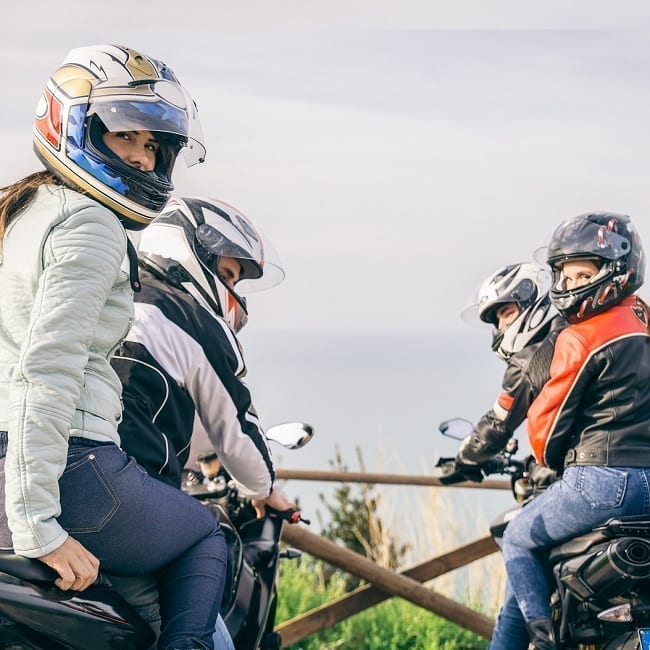 Passenger Injuries
Because the damage to the motorcycle may be tremendous, while your injuries are just as severe, it is important that your Los Angeles motorcycle accident attorney assesses your case immediately to ensure we provide you with the best strategic approach possible to obtain financial recovery.
Selecting a Lawyer in Los Angeles After a Motorcycle Accident
At our law firm, we provide a dedicated approach to your physical, mental, and financial recovery.
Motorcycle riders often sustain serious injuries when they are involved in an accident since their bodies are much less protected than someone sitting inside of a car. Riders who get injured in motorcycle accidents not only have to deal with the after-effects of their injuries but also the biases of a certain part of the public.
Unfortunately, some people think that motorcycle riders drive dangerously and must be at fault. An insurance company knows this and is all too willing to take such a stance as well.
The Law Offices of Steers & Associates has experience representing injured motorcycle riders and handling motorcycle accident claims, so we understand what it takes to overcome the tactics of the insurance company.
If you are a motorcycle rider in Los Angeles, CA who has been injured due to the carelessness of someone else, rest assured that a personal injury attorney from our Los Angeles office will aggressively work for you to get you the compensation that you are entitled to. Examples of the skill set and actions that we undertake for our injured motorcycle crash clients include:
Thorough factual analysis during initial (free) consultation with clients
Knowledge of laws and issues that specifically relate to motorcycle riding including lane splitting, helmet laws, license and permit requirements, inattentiveness of drivers, and inaccurate police reports
Obtain police and investigative reports when appropriate
Have law firm's investigator obtain witness statements when necessary
Inspect scene of the accident if necessary
Fast response to clients' questions
Consistent follow-through with insurance companies with respect to repair and rental issues (knowledgeable about types of motorcycle insurance coverage and effect this may have on clients' claims)
Monitor medical treatment to ensure clients are satisfied with their care
Prompt preparation of demand for compensation to the insurance company once medical treatment is finished
Assistance in resolving clients' medical bills including any lien issues
Aggressive and thorough representation in the event a lawsuit has to be filed
If necessary, settlement re-negotiation to ensure you get the compensation you deserve
Contact a Los Angeles Motorcycle Accident Lawyer Now.
If you or a loved one has been injured in a motorcycle accident, it is important to stand up for your right to share the road going forward now. You have every right to fight for the compensation you deserve. Contact our Los Angeles motorcycle accident lawyers today for a free consultation. We will only offer you advice which is in your best interest.
The Law Offices of Steers & Associates offers our legal services for motorcycle accident cases on a contingency fee basis. A contingency fee basis means you pay no fees unless we win your case.
When a settlement for damages is secured, the law firm's legal fees will be covered by an agreed-upon percentage of that financial compensation to the client. Contact our accomplished and dedicated motorcycle accident attorneys today to help receive the financial recovery you deserve for your injuries.
What Kind of Compensation Can I Get From a Motorcycle Accident Claim?
Motorcycle accident claims seek to award victims with a settlement that covers the expenses from their accident. This can include:
Medical bill compensation: If you suffered a catastrophic injury after a motorcycle crash, your personal injury claim will provide you with enough money to cover the cost of your hospitalization, surgeries, rehabilitative care, and many other medical expenses.
Lost wages: If you had to stay home from work to nurse your motorcycle accident injury, your Los Angeles motorcycle accident attorney will ensure you receive compensation that makes up for lost wages in your paycheck.
Pain and suffering: Motorcycle accident injuries can leave an individual's life forever changed. Motorcycle injuries can lead to depression, anxiety, and post-traumatic stress after an accident and can cause victims extreme pain and suffering. Your Los Angeles motorcycle accident attorney will aim to provide you compensation for the emotional toll of your accident.
Wrongful death: A fatal motorcycle accident in Los Angeles, CA can leave a victim's family without their loved one. Wrongful death compensation provides damages to a spouse of a family member that is survived by a victim of a fatal crash.
A Recent Review:
⭐⭐⭐⭐⭐ I was in an accident where my car was totaled. At first, I thought I could handle things by myself but then my pain began to get much worse. I hired Allen based on the recommendation of a friend and he did not disappoint. He was very fast in answering my calls and emails. He also got me the maximum settlement from the other person's insurance and then got me compensation from my insurance too. – James
Motorcycle Accident

Resources