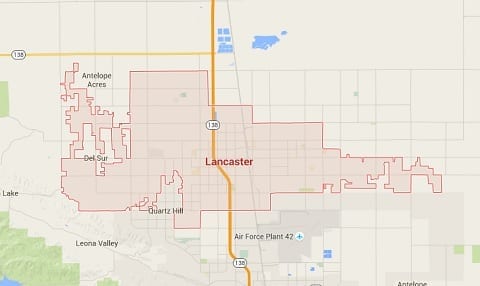 If you have been injured in an accident in Lancaster, California, and are looking for a personal injury attorney, give us a call today to schedule a free, pressure free consultation. We offer expert personal injury legal representation to protect your interests if you have experienced a serious personal injury. We give personalized attention to each case.
Accidents in Lancaster CA
Located in the Antelope Valley in the western part of the Mojave Desert, Lancaster is celebrated for many things, not least of all for being where legendary test pilot Chuck Yeager first broke the sound barrier in 1947.
Despite being a bit away from it all, Lancaster is certainly not removed from the modern world, and that includes accidents.
In 2014, for instance, three people, including a child, were killed in a two-vehicle accident at the intersection of 25th Street West and Avenue K. The accident involved a Jeep and a pickup truck. The impact was so severe that the Jeep was ripped into pieces and debris flew up into tree branches. Four of the five people in the Jeep were ejected, and 3 died, including a child. KTLA reported that the driver of the pickup suffered only minor injuries.
In a situation like this, you, or your loved ones, should seek legal advice. There may be serious injuries involved, possibly lost income and potentially a lengthy rehabilitation.
In some cases, full recovery may never be possible.
Lancaster auto accident lawyer
Lancaster has many roads where auto accidents have or may occur. Highway 138 runs right through Lancaster. Other highly trafficked roads include Challenger Way, Sierra Highway, and 60th Street. Because of mass and speed, motor vehicle accidents tend to be particularly traumatic, especially motorcycle accidents as the driver is exposed to injury.
Slip and Fall Accident Lawyer
More mundane accidents can happen when basic facilities are not well properly maintained. This can mean anything from a wet floor with no warning sign to a poorly lit area. It is up to the property or business owners to ensure the safety of guests.
What to do if you've been in an accident in Lancaster:
The most immediate concern is your safety and well-being. Were you injured? Do you need medical assistance? Does anyone else?
Call 911 for any urgent medical needs and to report the accident
In the case of an auto accident, call police and exchange insurance information
After you have done these things, you may wish to call our offices to discuss your accident.
Other injuries
If you have had a specific injury feel free to visit our pages dedicated to specific injuries:
New here?
If you are new to Lancaster be sure to check out the "Lone Ranger Highway":