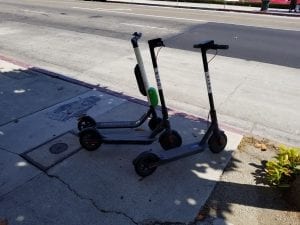 For many years, Long Beach has been recognized as one of California's best bicycling cities. More miles of bike lanes were added onto its bicycle master plan, and in some places, bike lanes have even been separated from pedestrian lanes. Now, it appears as the bicyclists in the bike lanes will be sharing the lanes with electric scooter riders. Five electric scooter rental companies (Razor, Uscooters, Spin, Lime & Bird) have been given permission to operate in the Long Beach. Nobody really knows how many more scooters the city will allow, but after a review of it's pilot plan, there's a strong possibility that even more electric scooters will be buzzing around town. In turn, that will increase the likelihood of more electric scooter accidents and injuries.
Types of Electric Scooter Accidents
In the context of innocent victims being injured in electric scooter accidents, the law is developing. Here are some of the common accident scenarios that we've been contacted about:
Pedestrians hit by scooter riders.
Scooter riders hit by careless and negligent motor vehicle operators.
Pedestrians tripping and falling over electric scooters left in walkways.
Scooter riders being injured in accidents involving road hazards.
Dangerously defective or poorly maintained electric scooters (defective brakes, wheels and tires).
Who Might Be Held Liable?
If you were injured in any of these types of electric scooter accidents in or around Long Beach, you might be eligible to make a personal injury claim for damages. What comes to issue is who might be liable for compensating an innocent victim of an electric scooter crash for his or her injuries. Here are some people or entities that might be held at fault for an electric scooter rider's injuries in an accident:
A careless and negligent driver who caused the accident and injuries.
A pedestrian can be held liable for injuries suffered by an electric scooter rider.
The manufacturer of a scooter that was defectively designed, manufactured or who failed to give adequate warning of an electric scooter's dangerous propensities, like when two people are riding in tandem on a scooter.
The State of California, Los Angeles County or the City of Long Beach for a dangerously designed or an inadequately maintained roadway.
Rider Negligence
On the other hand, a lack of experience, inattention or both can cause a pedestrian or bicyclist to be injured by a careless and negligence scooter rider. Throughout California, pedestrians have also been injured when tripping over carelessly discarded scooters that can be left anywhere after being used. Long Beach is trying to address this issue with conveniently located stations for purposes of dropping scooters of at. As per California law, only one rider is allowed on an electric scooter. When two people are in tandem on a scooter, steering and stopping become more difficult. Those issues can factor into any type of a crash.
Common Electric Scooter Injuries
California law only allows an electric scooter to travel at 15 mph, but they can travel much faster down a hill. As per the National Highway Transportation Safety Administration, an electric scooter crash is about 35 percent more likely to result in a fatality than a car crash. Emergency rooms across California are experiencing a sharp uptick in traumatic injuries as a result of the proliferation of electric scooters. Here are some of the most common injuries that emergency room physicians are seeing, many of which require emergency surgery:
Severe fractures.
Skull fractures and traumatic brain injuries.
Joint dislocations.
Internal organ damage.
Road rash and infection.
Contact a Long Beach CA Electric Scooter Accident Lawyer.
Whether you were an electric scooter rider, a pedestrian or a bicyclist, and you were injured as a result of the negligence of somebody else in or around Long Beach, seek immediate medical attention. After that, contact our offices as soon as possible to arrange for a free consultation and case evaluation. We'll give you our fullest attention and answer your questions. Then, we'll advise you of all of your legal options. If we're retained to represent you, no legal fees at all will be charged unless we obtain a settlement or verdict for you.