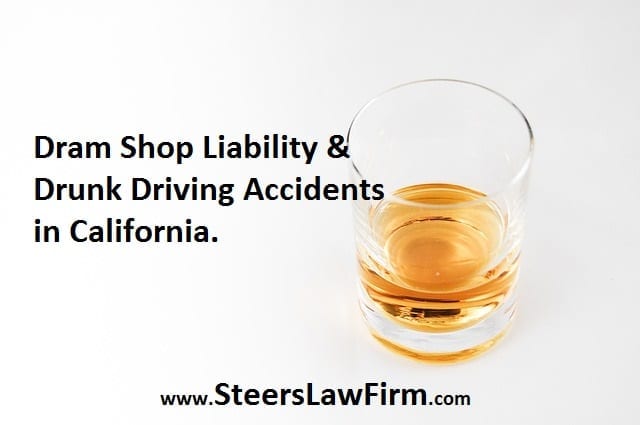 If you or a loved one was injured by someone who was visibly .drunk or intoxicated, the people or establishment who served the obviously intoxicated individual may be able to be held liable.
If you have been in such an accident call us now for a free consultation. I am an experienced Los Angeles personal injury lawyer who will fight to help you obtain the maximum amount of compensation for your injuries.
What is a Dram Shop?
A dram shop is a legal term referring to a bars, liquor stores, or other establishments where alcohol is sold.
Selling or serving alcohol to visibly intoxicated patrons is a crime in California. And Dram Shop Law allows businesses who sell alcohol to the visibly intoxicated to be held liable for injuries or death caused by individuals who purchased alcohol while visibly drunk.
Dram Shop Law in California
Business and Professions Code 25602:
25602. (a) Every person who sells, furnishes, gives, or causes to
be sold, furnished, or given away, any alcoholic beverage to any
habitual or common drunkard or to any obviously intoxicated person is
guilty of a misdemeanor.
(b) No person who sells, furnishes, gives, or causes to be sold,
furnished, or given away, any alcoholic beverage pursuant to
subdivision (a) of this section shall be civilly liable to any
injured person or the estate of such person for injuries inflicted on
that person as a result of intoxication by the consumer of such
alcoholic beverage.
(c) The Legislature hereby declares that this section shall be
interpreted so that the holdings in cases such as Vesely v. Sager (5
Cal. 3d 153), Bernhard v. Harrah's Club (16 Cal. 3d 313) and Coulter
v. Superior Court (____ Cal. 3d ____) be abrogated in favor of prior
judicial interpretation finding the consumption of alcoholic
beverages rather than the serving of alcoholic beverages as the
proximate cause of injuries inflicted upon another by an intoxicated
person.

25602.1. Notwithstanding subdivision (b) of Section 25602, a cause
of action may be brought by or on behalf of any person who has
suffered injury or death against any person licensed, or required to
be licensed, pursuant to Section 23300, or any person authorized by
the federal government to sell alcoholic beverages on a military base
or other federal enclave, who sells, furnishes, gives or causes to
be sold, furnished or given away any alcoholic beverage, and any
other person who sells, or causes to be sold, any alcoholic beverage,
to any obviously intoxicated minor where the furnishing, sale or
giving of that beverage to the minor is the proximate cause of the
personal injury or death sustained by that person.
Injured?
The most common cause of injuries to victims by intoxicated individuals is via vehicle accidents. In the event of a drunk driving accident involving a serious injury you need an experienced car accident lawyer. If you find yourself in this situation contact us today for a free consultation.

Allen Vaysberg practices personal injury law and works tirelessly to defeat the tactics of insurance companies and large corporations who try to deny justice and fair compensation to injured people.