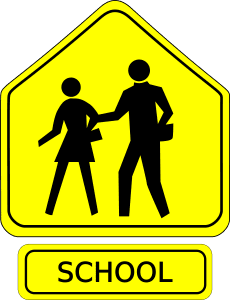 With a new school year starting in the Los Angeles metro area, many parents take to worrying about their kids while at school and getting there and back safely. A recent crash highlighted these worries Tuesday morning, September 4, 2019, when a charter bus was transporting elementary school kids to the Reagan Presidential Library.
Four of the 33 students and adults on the bus were taken to a local hospital, but thankfully, the injuries were not said to be serious. Details of the crash weren't made known, but air video footage showed the bus up an embankment on the 118 Freeway in Ventura County.
Back to School Safety Hazards
While we have no idea who was at fault in the school bus accident mentioned above, we do know that typically the law allows for those injured in any injury accident to sue for injuries and other financial losses. This is based on the negligent of the at-fault person or entity such as a company or a school.
Public School v. Private School
When the fault is a private person—as opposed to a public school or the government—then the law will allow those injured to sue the person for their losses. However, if the injury was caused by a public school or bus driver, then the doctrine of sovereign immunity comes into play.
This is a law that protects the government from being sued for its acts of negligence. However, in California, the legislature passed a law that granted exceptions to this immunity, and allows certain lawsuits based on acts of negligence by schools and education departments to go forward.
This means that if the school caused an injury due to its negligence, then the injured student can seek compensation from the school—but with certain requirements and limitations. Some of these requirements are certain rules regarding giving notice of the claims in a timely manner, a different schedule of the statute of limitations and certain caps on damages.
Types of Injuries Allowed Under the Exceptions
There are many ways that kids can get injured at school, and most of those come under the sovereign immunity exceptions, some of these are:
School Bus Accidents
Playground Injuries
School Sports/PE Injuries
School Grounds/Classroom Injuries
Security/Assault/Sexual Assault
Bullying
Stairways/Walkways/Handrails
Elevators
Building Design
Making a Claim Against a Public School
The law that allows the school to be sued has placed certain restrictions on the lawsuit itself. An experienced attorney will know what these restrictions are and how to make a valid public-school injury claim.
Notice Requirement
There is a shortened notice requirement when suing the state. The government is entitled to a 180-day notice of the claim, and failure to meet the time and content requirements of the notice might result in a dismissed claim.
Statute of Limitations
There are certain deadlines for filing the actual claim based on the type of injury claim. A missed deadline will usually result in the loss of the right to get compensation.
Contact a Los Angeles Injury Attorney
If your child has been injured in a school-related accident, contact an attorney right away. Suing the government is tricky business. In many cases, a simple missed deadline or improperly drafted or filed pleading can derail an otherwise valid claim. You need to speak to an attorney who understands how to sue the school district and who knows the laws regarding sovereign immunity.
Don't let you case get dismissed or defeated because of some unknown rule or deadline.  We offer a free consultation where we can review your specific case, and you can be advised of your rights under the law.
Call us today at 800 824 5416 or click here to contact us online. We have attorneys with years of experience dealing with every type of personal injury, and we get results against the insurance companies and their highly-paid lawyers. Call us now to even the playing field and get the compensation you deserve.